Interpretation

High quality services for international events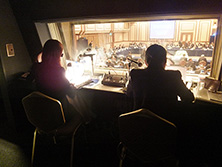 The need for smooth communication in foreign languages has grown in tandem with the advance of globalization. International conferences and symposiums, corporate business meetings and on-site inspections all require professional levels of interpretation.
The Bilingual Center at NHK Global Media Services is ready to support clients' requirements by consigning highly qualified interpreters who constantly work on the front lines. We're able to provide interpreting services that are best-suited for the subject matter or occasion. Please do not hesitate to contact us about your next event.